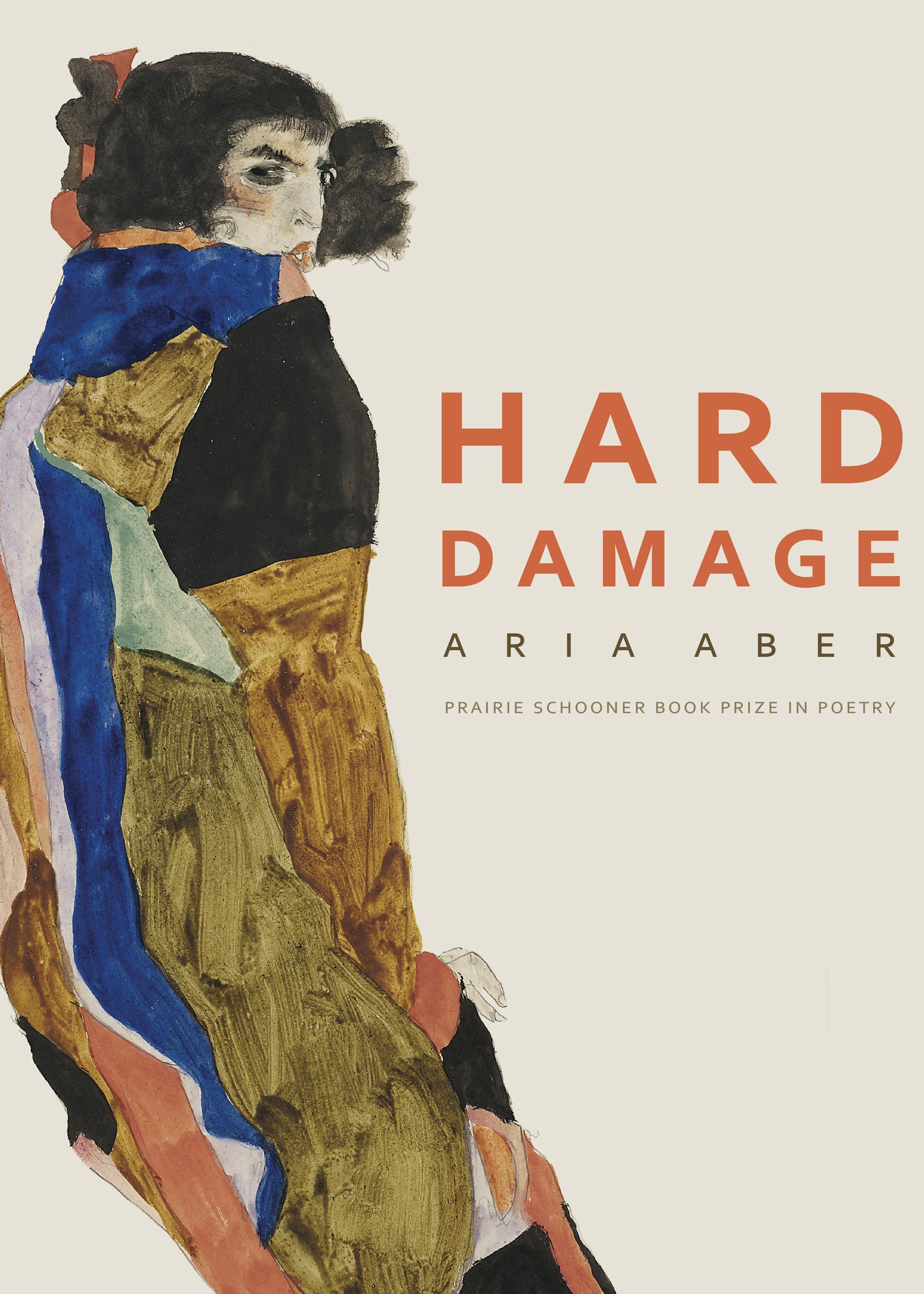 Buy via University of Nebraska Press
Buy via Waterstones (UK)
Buy via Book Depository (international)
Buy via Hugendubel.de (Germany)
Hard Damage works to relentlessly interrogate the self and its shortcomings. In lyric and documentary poems and essayistic fragments, Aria Aber explores the historical and personal implications of Afghan American relations. Drawing on material dating back to the 1950s, she considers the consequences of these relations—in particular the funding of the Afghan mujahedeen, which led to the Taliban and modern-day Islamic terrorism—for her family and the world at large.

Invested in and suspicious of the pain of family and the shame of selfhood, the speakers of these richly evocative and musical poems mourn the magnitude of citizenship as a state of place and a state of mind. While Hard Damage is framed by free-verse poetry, the middle sections comprise a lyric essay in fragments and a long documentary poem. Aber explores Rilke in the original German, the urban melancholia of city life, inherited trauma, and displacement on both linguistic and environmental levels, while employing surrealist and eerily domestic imagery.

PRAISE:
With disarming ease, Aria Aber's Hard Damage leaps from the personal to the political, from song to theory, from Rilke to "Afghan blow," from a German childhood back to an earlier Afghani family history, ending up in a richly vexed American life. These juxtapositions are electrifying, eloquent. Aber's metaphors create vital arguments in extended meditations on political protest, violence, belonging, and longing itself: "I was an abandoned thought, / marching through an unlocked window," she writes. Prepare to be turned upside down as you listen in to this blazing intelligence that juggles languages and global conflict to erase boundaries and to question other erasures: of family members, of the Aleppo hospital now marked by "a clock ticking aimlessly / in rubble," of "home." In this remarkable debut, love in all its analogues is the guiding force. "What is it that we owe to each other?" Aber asks, calling us into "history's collateral light."
—Catherine Barnett, author of Human Hours
Revel in the rise of this searing, essential new voice. Aria Aber's Hard Damage is an expansive debut that contends with the hard truth of how elusive belonging, and reckoning, is: "God, I say, my forehead kissing the flowered rug—I am not // delicate. Look at me. I am not trying to disappear. " Every word, every phrase crafted to incise, with its electric currents of images that make up the lives of refugee mothers, fathers, and daughters, and the inherent homesickness of language, wars. This debut seduces, critiques, mourns, ruptures, replenishes—and not without humor and wit. By the end I found myself completely thrilled that poetry can have this many possibilities.
—Sally Wen Mao, author of Oculus
Aria Aber's Hard Damage confronts the reader with both a masterful directness and lyrical clarity. Though the poet pays homage to tradition, these poems also realize a voice and experience—truth and sonority, spirit and grit—that are individual. Each turn in this narrative of dislocation dares a root-fed luminosity. Indeed, the speaker of Hard Damage transverses multiple way stations (Kabul, Berlin, Paris, New York City, and elsewhere), always carrying history and family through these migrations. This necessary collection possesses passion and wisdom.
—Yusef Komunyakaa, author of The Emperor of Water Clocks
Personal and historic, Aria Aber's Hard Damage traces the multiple displacements faced in the aftermath of violences, national and otherwise. At turns scathing and tender, ironic and keening, Aber writes richly of warfare and Rilke, German and English alike. There is too much barbed beauty for my few sentences to contain, though Aber's do—elegantly; dangerously. A tremendous debut we are lucky to behold.
—Solmaz Sharif, author of LOOK